Thank you for visiting our website.
We are a creative field advisor/consultant group, who has awareness and responsibility, etched in mind to work on proposals with values from customer's point of view. Its origin is to appreciate opportunities, value chances and also to accumulate words and actions with commitment which will lead us to building a "good relationship. Therefore, it is the only policy toward to business prosperity.
With the constant environment changes, with passion for an enterprise, etched in the mind the challenge for change and questioning ourselves the significance of the company's existence, we promote the management innovation and persistently devote ourselves to study every day.
Thank you for your continuous support and encouragement.
Kajiki Hidetaka, President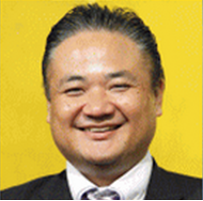 ■Our Mission
From sports facilities to construction, housing and landscape, we, Kofu Field provide the best support based on customers' needs throughout various planning, designing and maintenance.
First, we consult with our customers and understand the needs. Then in the following order, we conduct research, surveying and planning. With hands-on policy, we gather ingenuity of Kofu Field and perform the best proposal activities.
Corporate Profile Video (YouTube)